Trips are fun but to avoid ending up in a fight is not what you want. While you all know what all to do while on a trip, we help you understand that there are certain things you should not do to avoid any post trip agony. Read on our negative checklist to avoid a cold war post a trip – 
DO NOT CHECK OTHER PEOPLE OUT:-
(Or be a little subtle about it, at least)
Say you're in Goa, sunbathing by the beach, with the sound of the waves hitting the shore and the breeze hitting your face, and right at that very moment, you look at a beach beauty passing you by. Mind you, just steal a glance, don't stare. Trust me, your woman can see through your sunglasses.
DO NOT BE THE SOLE TRAVEL PLANNER:-
Being self-aware is a good thing, but planning the whole trip out according to your own conveniences and not considering your partner's desires is just not cool. Next thing you know, you're out there in the spa or watching a football game while your partner sleeps the whole damn day off.
DO NOT GET TOO TOURIST-Y:-
Now, it's understandable that some places have a grand history and have got some great monumental places, but remember, had it all been just about the sightseeing, you would never have gone with them anyway.
DO NOT GET TOO INTOXICATED AND CLUMSY:-
Mild, slight and seldom: it's alright, but perpetual intoxication will ensure that you don't get anything new out of this place, which doesn't quite solve the purpose of running away from your monotonous lives, and places.
DO NOT BE ALL ABOUT THE PICTURES:-
The view is beautiful, I get it, but don't turn your partner into a professional photographer, just for the sake of an Instagram post, or a Facebook profile picture, is a bit too much, don't you think? You're not the only one on this trip, after all, are you?
DO NOT FORGET TO PACK YOUR ESSENTIALS:-
Say you're going hiking and you need something. You want all your essentials in your bag (all kinds (pun intended)), because trust me, you don't want to be running to the medical store in the medical store after a long day (no pun intended (or is there?)) in the middle of the night.Also, keep with yourselves some handy snacks for you to much on after (slight intoxication maybe?). You won't regret it.
DO NOT SNAPCHAT EVERYTHING:-
Flaunting your amazing love life on social media might be fun, but showing it off on EVERY social media platform certainly isn't essential. All your snapchat and Instagram and Snapchat stories don't need to be filled with your 'moments'. That can wait. Some things are better left off as private.
DO NOT SPEND ALL THE TIME OUTSIDE THE BEDROOM:-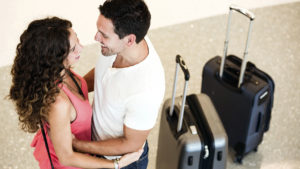 While a trip can be all fun and adventure, but the primary purpose of a trip with your loved one is to work on your intimacy, after all, isn't it? So make sure you hand in (no pun intended) enough time to the bedroom. After all, a couple of hours alone(or more) has never hurt anyone, has it? (or has it?)
Keeping these points in mind might just make your trip more memorable!
Comments
comments