We love summers and one of the reasons for that being we get to eat mangoes! It is the perfect time to savour its taste in this season of heat. If you have a sweet tooth and love mangoes then we bring to you a recipe which will fix your cravings simultaneously.
MANGO PUDDING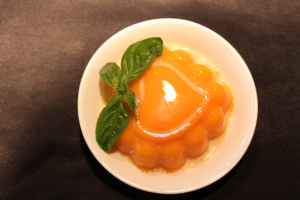 Ingredients
200 g frozen mangoes
2 1/2 cups cold water
1 cup heavy cream, chilled
50 ml mango juice
45 g sugar
Teaspoon freshly squeezed lime juice.
2 (1/4-ounce) packets unflavored gelatin.
Method
Take gelatin in a bowl. Add cold water over it and let it soak for 10 mins.
Take water in a pan and bring it to boil. Switch off the flame and add the soaked gelatin and mix well so that it gets dissolved easily.
Cut fresh mango in half and then dice the fresh mangos out.
Place most of the mango cubes in blender and then add the left half milk or coconut milk; blend until very smooth. Mix mango smooth with milk prepared in step 1, add heavy cream too. Stir until evenly combined. And strain the mixture.
 Pour the mixture to your container or ramekins. Move to refrigerator for around 2 to 3 hours until completely set.
 Run a knife around the sides of the bowl and invert it into a plate.
 Serve cold
So what are you waiting for? Make it soon and tell us how you liked it.
Comments
comments