Don't we all just love having a drink in this weather? This cocktail recipe is refreshing with the perfect mix of alcohol and mint.  It was described as a "dram of spirituous liquor that has mint in it, taken by Virginians in the morning." and became the official drink of the KENTUCKY DERBY. Though we may or may not be a fan, we could sure as well try their favourite drink.
MINT JULEP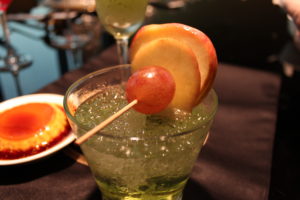 INGREDIENTS
3 to 4 ounces bourbon, to taste
1 teaspoon sugar dissolved in 1 teaspoon water (or use 2 tsp. simple syrup)
8 to 10 leaves fresh mint
 Mint leaves
DIRECTIONS
Place the mint leaves in the bottom of an old-fashioned glass and top with the sugar.
Add the mint leaves and gently bruise with a wooden muddler or a wooden spoon.
Take care not to overwork the mint, but swab the sides of the glass with the mint's aromatic oils.
Add the bourbon and pack tightly with crushed ice.
Fill the glass with crushed ice and stir until the outside of the glass frosts.
Top with more crushed ice to form an ice dome and garnish with a few drops of bitters, if desired, and a mint sprig.
So where are your silver cups at? Get them out and put this recipe to use.
Comments
comments